KickassTorrents is the biggest torrent site in the world, been home to thousands of illegal materials ranging from latest music, movies, and other paid materials.
With millions of unique visitors per day KickassTorrents (KAT) has become the most-used torrent site on the Internet, beating even The Pirate Bay.
Today, however, the site has run into a significant roadblock after U.S. authorities announced the arrest of the site's alleged owner.
The 30-year-old Artem Vaulin, from Ukraine, was arrested today in Poland from where the United States has requested his extradition.
In a criminal complaint filed in U.S. District Court in Chicago, the alleged owner is charged with conspiracy to commit criminal copyright infringement, conspiracy to commit money laundering, and two counts of criminal copyright infringement.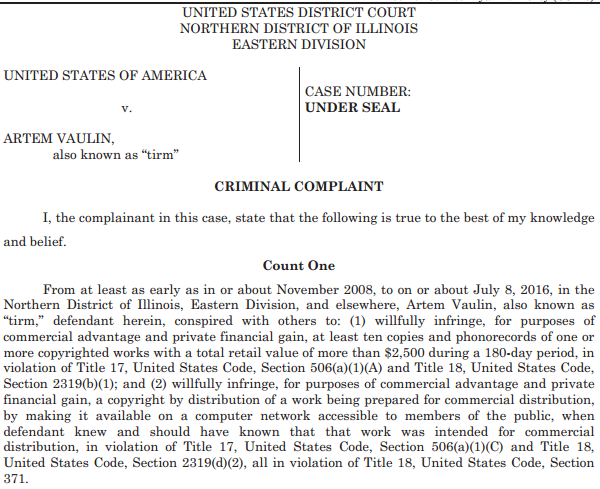 The complaint further reveals that the feds posed as an advertiser, which revealed a bank account associated with the site.
It also shows that Apple handed over personal details of Vaulin after the investigator cross-referenced an IP-address used for an iTunes transaction with an IP-address that was used to login to KAT's Facebook account.
"Records provided by Apple showed that [email protected] conducted an iTunes transaction using IP Address 109.86.226.203 on or about July 31, 2015. The same IP Address was used on the same day to login into the KAT Facebook," the complaint reads.
In addition to the arrest in Poland, the court also granted the seizure of a bank account associated with KickassTorrents, as well as several of the site's domain names.
Commenting on the announcement, Assistant Attorney General Caldwell said that KickassTorrents helped to distribute over $1 billion in pirated files.
"Vaulin is charged with running today's most visited illegal file-sharing website, responsible for unlawfully distributing well over $1 billion of copyrighted materials," Assistant Attorney General Caldwell said in a statement. "In an effort to evade law enforcement, Vaulin allegedly relied on servers located in countries around the world and moved his domains due to repeated seizures and civil lawsuits. His arrest in Poland, however, demonstrates again that cybercriminals can run, but they cannot hide from justice."
The criminal complaint filed in U.S. District Court in Chicago notes that KAT receives more than 50 million unique monthly visitors and is estimated to be the 69th most frequently visited website on the internet. The complaint also states that KAT operates in approximately 28 languages, has a net worth of more than $54 million, and generates an estimated $12.5 million to $22.3 million in annual advertising revenue.
Torrent sites like KAT and The Pirate Bay do not host pirated content themselves, but instead provide links to torrent files that allow users to then download both legally and illegally obtained software, games, music, TV shows, movies, and so on. Torrent files contain the instructions for how to download the content from other users, and BitTorrent clients follow them.
We have not confirmed that KAT is experiencing technical difficulties because of Vaulin's arrest, but federal authorities in Chicago say they have "seized domain names associated with the website" so it's unlikely to be a simple coincidence. The domains in question are kickasstorrents.com, kat.ph, kickass.to, kastatic.com, kickass.so, thekat.tv, and kat.cr.
Whether the site stays down or not, users will merely shift to other torrent sites, including copycats that are likely to spring up if KAT is down for long enough.