WhatsApp Messenger is a cross-platform mobile messaging app which allows you to exchange messages without having to pay for SMS.
When Instagram was bought by Facebook for $1 billion, the media went nuts. But that was nothing compared to what Facebook bought Whatsapp for – a whopping $19 billion. This breaking news came in days after Viber was reported to have been bought by Japanese online retailer, Rakuten for a fraction of the price tag: $900 million. And to think that we were scratching our heads over Snapchat turning down Facebook's $3 billion offer.
Whatsapp, one of the most popular mobile messaging app, faced fierce competition from the likes of WeChat (which is huge in China and the Asia pacific region)  but held its ground with its many features that ensure users have a secure, dependable and practical messaging experience. With that in mind, here are a few tips, tricks to get more out of Whatsapp.
1) Trick the Blue Ticks
These ticks received criticism from most users. It lets the person on one side know that the person on the other side has read the message, and on the off chance that he hasn't replied, it sends a negative impression in the mind of that person.
Indeed, blue ticks has broken many relationships!
Here is how to disable them:
Open WhatsApp, and tap on those three vertical dots (found on the top right). If you can't see any such dots, any of the bottom buttons on the smartphone would open the same thing.
Navigate to Settings -> Account -> Privacy.
There's a read receipts option there. Uncheck it. You're done
2. Backup And Restore WhatsApp Chats
The messaging platform makes automatic backups of your chats, but you can also make a manual backup. On iOS, it's Settings > Chat Settings > Chat Backup, then tap Back Up Now.
On Android, just go into Settings > Chat settings and tap Backup conversations to create a backup. This won't backup your media, so you'll need to use a file manager to copy the media folders in /sdcard/WhatsApp/Media.
3. Stop WhatsApp images appearing in your camera roll 
If your friends send you loads of stupid pictures on WhatsApp, and you don't want them mixed in with all your amazing photos, it is possible to keep WhatsApp images separate so they don't appear in your camera roll.
Download a file explorer, such as ES File Explorer
Navigate to sdcard/WhatsApp/Media
Enter the folder you don't want shared (in this case, WhatsApp Images)
Tap the plus button at the bottom of the screen
Name the new folder .nomedia
That should stop any media in that folder from showing up in your camera roll.
4) Mute annoying WhatsApp group chats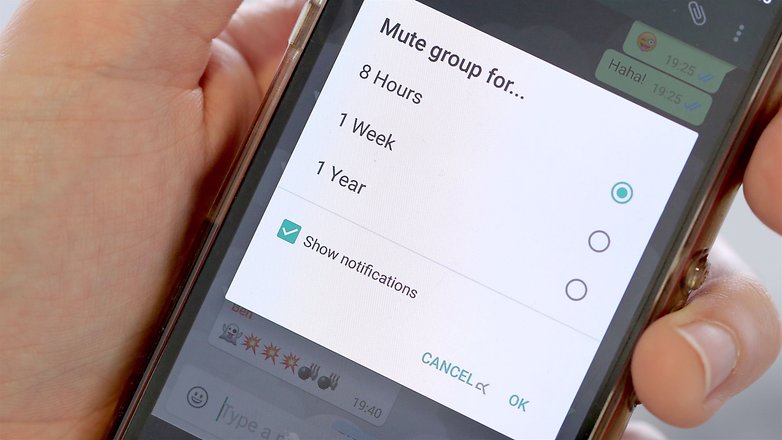 We've all been in that position where we've somehow been dragged into a group chat that we either didn't really want to be in in the first place or just don't want to receive notifications from every couple of minutes.
Rather than just leave the chat, which may offend some people, you can simply mute the chat so you stop receiving notifications from it.
In WhatsApp, tap the Chats tab
Tap the group you want to mute
With the group open, tap the Options icon at the top right
Tap Mute, then select the amount of time you want to mute the group for. You can also untick the Show notifications box so that you never hear from the group again until you decide otherwise
5) Change your WhatsApp background
This simple little trick allows you to change the default wallpaper in WhatsApp. It's purely an aesthetic feature, but it does make your conversations look a lot nicer.
In WhatsApp, tap the options (three dots) button and tap Settings
Tap Chats
Tap Wallpaper
Tap WhatsApp, to download the WhatsApp wallpaper pack, or Documents, to view your own images.
Select an image and tap Set Wallpaper
6. Change Your WhatsApp Phone Number
If you've changed phone numbers but kept the same phone, you don't need to uninstall and reinstall WhatsApp just to change numbers. There's a setting within WhatsApp that will let you migrate your WhatsApp account to a different phone number.
Go to Settings > Account > Change number. Enter your old phone number in the top field and then your new phone number in the bottom field. Then press Done. Verify your new phone number, and all your chat history, groups and so on will be migrated to the new number.
7) Lock Your WhatsApp
Everyone, at some point or another, has probably had to deal with friends or family taking a sneak peek at their WhatsApp messages. Thankfully, if you're using WhatsApp on Android or BlackBerry, there are apps that can help secure from prying eyes.
If you're using Android, there's WhatsApp Lock, while BlackBerry users will want to check out Lock for WhatsApp.
Basically, both of these apps work similarly: when you use them, WhatsApp will be protected by a PIN (in the case of WhatsLock) or a password (in the case of Lock for WhatsApp). Either way, once you have things set up, the people around you shouldn't be able to take a sneak peek at your WhatsApp any longer.
8) Send LITERALLY ANY File Through WhatsApp (Craziest WhatsApp Trick Ever)
The messaging platform limits you over the kinds of file you can send. You are allowed to send no more than an image, video, audio, contact and location. But here's a small trick to literally send any file through WhatsApp.
Follow the below steps:
Suppose you want to send an APK file through WhatsApp. Open your File Manager
Navigate to the file you want to send.
Press the RENAME button.
Now add ".mp4" at the end of the file name. This will change the file extension of that file.
Send the file through WhatsApp to your friend.
Now, ask your friend to download the file and remove that ".mp4" prefix. The file extension will be changed back to normal and your friend can use that file!
9) Show your love, and show it's big!
This little tip is not unknown. You might have received a message with a big heart sometime already. Follow the below steps to do the same:
Open the contact to which you want to send the big heart on WhatsApp.
Hunt for that small heart emoji.
Send the message, with only one heart and nothing else. (I repeat, only one heart and nothing else.)

The heart will expand automatically upon pressing the send button
10) Create Fake Profile Picture For Your Friend
Do you want to surprise your friend by replacing his profile picture with that of a monkey? You won't be able to show a hilarious monkey everywhere but you can make some changes and show a monkey under his contact on your phone.
Make sure that you have opened your friend's profile picture at least once, so that WhatsApp downloads and stores it.
Get the image that you want to replace your friend's profile picture with. The image should be 561×561 in size.
In case you can't find any image of the specified dimensions, you can save and use this cute little monkey.
Navigate to Whatsapp -> Profile Pictures and replace your friend's profile picture with exactly the same name. 
Turn off your data/Wi-Fi and check your friend's profile picture on the messaging platform. It will be changed. You can send a screenshot of that to your friend then! ?
This is how it will look:
http://www.youtube.com/watch?v=AAW_8WtvfGU
If you have any new tricks , kindly post it below in the comment section :), and don't forget to share with your friends on social media